Grant Vingoe assumed the role of acting Chair and Chief Executive Officer of the Ontario Securities Commission (OSC) on April 15, 2020, having served as an OSC Vice-Chair since 2015. Grant has extensive experience in cross-border securities activities, corporate governance and regulatory policy, and prior to joining the OSC was a partner with international law firms in Toronto and New York for over 25 years.
We first sat down with Grant in 2016 to talk about his work as OSC Vice-Chair. Read the 2016 interview.
Subscribe to Investor News and stay informed about the latest investor initiatives, topical issues, educational resources, key dates and investor warnings and alerts.
Originally published: May 7, 2020
Meet Grant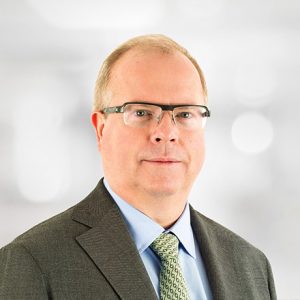 On his thoughts and priorities as he begins his new role …
I certainly wasn't expecting to enter this role as acting Chair and CEO of the OSC in the middle of a pandemic. My priorities and focus have largely been on first addressing the impacts of COVID-19 and moving forward with the OSC's mission and regulatory mandate in the current work-from-home environment. The OSC is operating under very different conditions these days, as are our stakeholders, and our response to the pandemic has been front and center.
To see our friends and neighbours suffering from the health effects of COVID-19, and all the anxiety associated with it – compounded with one of the most significant financial crises in our lifetime and beyond – has had a deep impact on me, especially with this leadership role.
All regulators have been very engaged to address the impact of COVID-19.
We've provided some relief for the industry, for example for public companies to ensure that they can meet their reporting obligations and continue to provide necessary information to investors and the marketplace, bearing in mind the constraints from so many people now working from home. Early in the crisis, there were also difficulties in pricing bonds and there was extreme volatility in the equity markets. To make sure that the industry would be able to continue to provide necessary investment services for investors, we, along with the Investment Industry Regulatory Organization of Canada and the Mutual Fund Dealers Association of Canada (the SROs), provided temporary regulatory relief measures there as well.
These measures are all in aid of the system working properly, ultimately helping investors access their investments and continue to manage their investments.
We also have to ensure that fundamental investor protections are observed and that investors are in a position to use the capital markets to rebuild their investments, including their retirement savings. For people in retirement or close to retirement, the effects can be particularly acute as we also have historically low interest rates. Rebuilding is going to take time. We're keeping our focus on people as well as businesses.
Another focus of mine is on ensuring that we continue to carry out our regulatory mandate and that staff can do their jobs in this new environment. We continue to exercise oversight of the markets, combat investment frauds including emerging scams related to COVID-19, conduct examinations as desk reviews, and move forward with our policy initiatives.
I want to assure everyone that the OSC is working in close collaboration with the Canadian Securities Administrators (CSA), which includes all provincial and territorial securities regulators in Canada, the SROs, the Ontario Ministry of Finance as well as the Bank of Canada, the banking regulators, the federal Department of Finance, the Financial Services Regulatory Authority of Ontario (FSRA) and others. We are also exchanging information and coordinating with our counterparts outside of Canada.
I have also met with important stakeholders including industry representatives, the investor advocacy community and our own Investor Advisory Panel.
So, these two areas – the OSC's pandemic response and ensuring that we can continue to fulfill our mandate within this work-from-home environment – have been my priorities since coming into this job. I believe people can trust that Canada has an excellent, highly-coordinated regulatory system that can respond effectively to these circumstances.
On what stakeholders can expect in the months ahead …
The Ontario government recently released A Framework for Reopening our Province which outlines guiding principles for the safe, gradual reopening of businesses, services and public spaces. The OSC's role will be to make sure that the operation of registrants, marketplaces, SROs, clearing agencies, and investor protection funds in Ontario continue to function properly.
It's uncertain how the public health and economic situation will unfold. We will have to deal with unknowns and incomplete information as we work towards recovery.
On policy initiatives, we're trying to be pragmatic and realistic given the circumstances while absolutely keeping the underlying objectives top of mind. Investor protection remains a pillar of our regulatory mandate and it is at the core of our securities regulatory system. So, as we've had to re-prioritize because of COVID-19, one of our primary filters is to ask ourselves "how does this impact investors?" This is a paramount question. If it can be done and it has a positive impact on investors, we should move forward with it, even in the short-run.
For example, we've worked with our provincial and territorial counterparts within the CSA to extend flexibility for the first phase of the Client Focused Reforms given the circumstances. However, the full implementation timeline remains unchanged and the reforms will take effect on December 31, 2021 as originally planned.
The Client Focused Reforms represent significant reforms to the client-advisor relationship. We're committed to working with investors, the industry and other stakeholders to move forward with these reforms. These reforms are designed to ensure that the principle that firms must put their clients' interests first are infused in the interactions that advisors have with their retail clients. This means that the interests of the client come first when making a suitability determination and recommendations are made to investors, and any material conflicts of interest are addressed in the best interest of the investor.
We will also work with industry in ways that aren't always necessarily visible, and we encourage industry to do the right thing by their clients in this environment, including those suffering financial hardship due to COVID-19. It is about finding the right balance, especially in the extreme circumstances that we find ourselves in.
I'd also say that the role of the Ombudsman for Banking Service and Investments (OBSI) is essential for investors to have confidence in the capital markets of our province and it's even more important during this pandemic. It's important for people to have access to an impartial OmbudService like OBSI if they have a complaint or concern that they're unable to resolve with their firm. I'm personally committed to strengthening OBSI so that both investors and firms have access to a fair, effective dispute resolution process, and that complaints are resolved in a timely fashion.
Any final thoughts?
I'm honoured to be in the role of acting Chair and CEO of the Ontario Securities Commission and every day I remind myself that I am a public servant for the citizens of Ontario. I'm committed to representing their interests in carrying out our regulatory mandate.
I'm also honoured to have the confidence of Minister Rod Phillips in appointing me to this role. The OSC and the Ministry of Finance work closely, and our collaboration is essential for our shared mission in service of Ontarians.
These are difficult times, but it's important to have a long-term perspective. It can be hard to think of even beyond the next couple of months in the midst of a health, financial, economic and employment crisis, and all the anxieties associated with it. But as leaders, as regulators and as everyday Ontarians, we need to pull together to support our fellow citizens and our economy.
We're all in this together. The OSC will do its part and I'm absolutely confident that our staff will continue to carry out our mission at the high standard that characterizes our staff.
Latest investor and consumer information related to the impact of COVID-19: GetSmarterAboutMoney.ca/COVID-19
Latest developments on the impact of COVID-19 on Canada's capital markets: https://www.osc.gov.on.ca/en/covid-19-update.htm