Subscribe to Investor News and stay informed about the latest investor initiatives, topical issues, educational resources, key dates and investor warnings and alerts.
Originally published: September 9, 2016
This past June, Leslie Byberg was named the Executive Director of the Ontario Securities Commission (OSC). This new position comes after more than a decade of working within various branches of the OSC. The Investor Office sat down with Leslie to discuss her priorities, new investor protection initiatives and the importance of considering the investor perspective.
Meet Leslie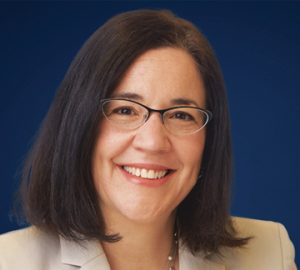 I'm a lawyer by background, my career started somewhat typically in private practice at a Bay Street law firm, where I worked for 6 years. Prior to joining the OSC in 2003 I held a regulatory affairs position at an association for the investment funds industry, so I learned a lot about the industry there but also had a lot of interactions with regulators. I did that for five and a half years and got to work on some great things, but then I started to think of where I should go next with this experience and the OSC was the right fit.
Since joining the OSC, I've worked as the head of several different branches, including as Director of Investment Funds, Corporate Finance and, most recently, Strategy and Operations. In my most recent role, I was asked to implement key parts of various strategic initiatives, including performance measurement, prioritization, risk management, research and analysis capacity and the introduction of an investor-focused branch, the Investor Office.
I think getting a cross-Commission perspective has allowed me to gain a good understanding of the operations of the entire OSC. As we strategically move in new directions I'm able to apply this understanding to recognize the impact that changes can have on the various parts of the organization.
On how considering the investor perspective has evolved…
In order to meet the needs of retail investors, we needed to evolve the way we engage with investors on issues and policy making. Understanding the needs of investors better definitely helps us achieve our mandate.
From using our typical rule-making approach, which is "please write us a letter", we also need to proactively get out there and seek investor input, and find innovative and constructive ways to engage differently. And what I've seen is us moving the dial significantly on that front. I've also noticed that people all over the organization are actually quite excited about what's been happening because they realize that building and understanding how to engage with investors is really key. It opens up a whole new level of discussion and a whole new window into the importance of what we do and how it impacts people.
The OSC is the only securities regulator in Canada to have an office such as the Investor Office prominently established in our organizational structure and taking part in important policy decisions. It's been exciting to see what its team has accomplished this last year.
It's also important that we continue to support organizations and groups like the Investor Advisory Panel (IAP). The IAP provides us with organized and channelled feedback from a different investor perspective.
On her priorities as Executive Director…
The OSC is guided by our Statement of Priorities and our business plan, which we publicly articulate. My objective is to make sure we deliver on our key priorities, including important investor-focused initiatives. This means we need to advance our work on the best interest standard and mutual fund fees, and deliver a robust seniors strategy and related initiatives. We also need to examine important areas such as investor redress; for example, looking at the findings of the recent independent review of the operations of the Ombudsman for Banking Services and Investments (OBSI) and determining what steps the OSC or CSA should consider in response.
To help us reach our goals, it's important that we continue to become an ever more data-driven organization. We're making great efforts to better collect, use and report data. It's always played a role in our work, but we need to ensure that we speak about data differently and that it gets incorporated into what we do on a daily basis.
In addition, even though we may set ambitious priorities, it's important that we do not lose sight of the most important one: our day-to-day work. Although our everyday work isn't articulated in our Statement of Priorities, what our staff do every day is crucial to delivering our mandate and we must recognize and acknowledge the importance of this work.
We have an ambitious and important mandate. We are doing this at a time where the organization is facing a significant and fundamental change with the creation of the Capital Markets Regulatory Authority. Despite this change, we're committed to delivering on these very important priorities that are important to investors and market participants.
On the proposed best interest standard…
The best interest standard that we're proposing is transformational in terms of describing the relationship between an investor and their advisor. From the research that's been done and investors' experiences, we know that the relationship needs to be better defined and clarified for investors. We know that this has the potential to be a big change for investors and advisors. We want to give investors peace of mind and assurance that their advisor, whom they have entrusted with their savings, is investing their money with their best interest in mind.
Many investors are more involved than ever in their own financial planning. They are looking after their retirements either on their own or with an advisor. Knowing that an advisor has their best interest at heart will make them better investors, and that could potentially provide them with better overall outcomes.
It's important to note that we are not pursuing our investor-focused agenda at the expense of the industry. We're always seeking balance and alignment between these two. That is our overarching priority. That is our mandate.
Final thoughts…
This is an exciting time for the OSC, investors and the capital markets we serve. There are some very important initiatives underway, and we're engaging with investors more than ever before. This creates new opportunities for us and what we can achieve as an organization, and I'm looking forward to being a part of it.