Subscribe to Investor News and stay informed about the latest investor initiatives, topical issues, educational resources, key dates and investor warnings and alerts.
Originally published: February 11, 2016
Naizam Kanji is the Director of the Ontario Securities Commission's (OSC) Office of Mergers and Acquisitions, a new team that formed in early 2015 to oversee merger and acquisition transactions and proxy voting matters involving public companies.
Naizam recently spoke with the Investor Office to discuss the role that the Office of Mergers and Acquisitions plays within Ontario's capital markets and how it's working to protect investors.
Meet Naizam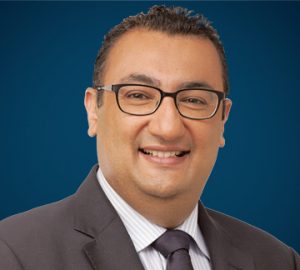 I've been at the OSC for 15 years. I joined as a junior lawyer on the mergers and acquisitions team, which at the time was a part of the Corporate Finance branch. Before that, I was practicing insolvency law at a private law firm. I went to law school at Osgoode Hall, where I did a lot of work with the professors on regulatory policy around securities law, in particular with Mary Condon, who's now a Commissioner at the OSC.
On the creation of the Office of Mergers and Acquisitions…
What is now the Office of Mergers and Acquisitions actually used to be part of the General Counsel's Office. When the OSC became a crown corporation, the mergers and acquisitions work moved to Corporate Finance. That was when the team started to come together.
Since then we've almost always been a specialized and independent unit of the Corporate Finance branch, but as the markets changed over time and new trends like shareholder activism emerged, it made more sense to have a separate group dedicated to looking at matters relating to corporate control, such as acquisitions of public companies, the use of control by company insiders (like directors and senior officers), as well as how control is sold. Broadly speaking, Corporate Finance focuses on public company disclosure; the issues relating to control are significant and unique enough to warrant a separate group entirely.
The Office of Mergers and Acquisitions formed in its current state about a year ago. The creation of the group was a huge milestone for us. Being a completely dedicated team allows us to monitor transactions closely, ensure that investors are being treated fairly and respond to emerging issues in a timely way.
On what investors should know about the Office…
It's important that investors know there's an Office whose primary responsibility is to create a level playing field for individual retail investors in transactions that relate to acquisitions or contests for control. These are some of the most significant events for public companies and investor confidence during such events is critical. Investors need to know that if and when someone tries to acquire a company that they've invested in, their rights are going to be protected from any opportunistic behavior.
Our Office also gives investors an opportunity to complain about transactions that they have concerns about. We have staff members who are dedicated to responding to complaints. We receive a lot of complaints when the playing field between retail investors and insiders that have greater voting power or access to information doesn't appear to be level. We intervene as soon as we see something potentially problematic for retail investors. They can rely on our supervision to ensure that their interests are being protected.
On what else keeps him busy…
I play a lot of table tennis, and was actually in Washington last year for the North American Teams Table Tennis Tournament. I've been playing since I was about 10 years old, and it's been a big, lifelong hobby of mine. You could say that in both my work and my sports activities, it's important to always keep your eye on the ball.