Subscribe to Investor News and stay informed about the latest investor initiatives, topical issues, educational resources, key dates and investor warnings and alerts.
Originally published: August 19, 2020
This article is part of the Investor Office series of discussions with key figures in Canada's financial services industry whose work impacts investors. The views expressed in this article are entirely those of Walied Soliman and are not intended to represent the views of the Ontario Securities Commission or the Investor Office.
Meet Walied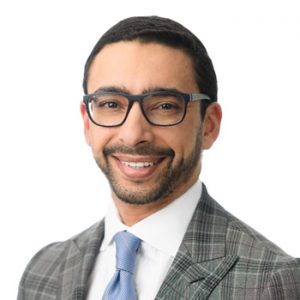 For the past seven months, I've had the incredible privilege of being the Chair of Ontario's Capital Markets Modernization Taskforce.
I am a Partner and the Chair of Norton Rose Fulbright Canada LLP, where I am also co-chair of the firm's Canadian special situations team, which includes leading hostile and complex mergers and acquisitions (M&A), shareholder activism and complex reorganization transactions.
But most importantly, I am also a father and a husband. My young family and I live in Toronto.
On Ontario's Capital Markets Modernization Taskforce…
The last review of Ontario's Securities Act was in 2003. It was a long time ago. A lot has changed in the last 17 years and Premier Doug Ford and Finance Minister Rod Phillips wanted to undertake a review of our capital markets to determine what was working and what was not.
The review undertook a unique approach. The Taskforce reported to the Finance Minister with a view to look at the capital markets in its entirety, whereas previous reviews reported to a group of stakeholders.
We assembled a superb group of unique and diverse people and each of us represented different elements of the stakeholder community. We worked extremely hard over the past seven months.
There were five individuals including myself. Rupert Duchesne was a former CEO and Director of Aimia, a major public company. Melissa Kennedy is Chief Legal Officer and Public Affairs of Sun Life, having previously worked at the Teachers' Pension Plan and in the Ontario Securities Commission's (OSC) Enforcement Branch. Wes Hall is the country's leader in shareholder advisory services and contested investor situations, and he is the Founder and Executive Chair of Kingsdale Advisors. Cindy Tripp, who is a founding partner of GMP Securities L.P., has extensive experience with wealth management.
On the Taskforce's initial consultation proposals…
There are more than 47 policy proposals to modernize Ontario's capital markets described in the Capital Markets Modernization Taskforce initial consultation report. It includes ways to reduce unnecessary burdens on issuers, increase investor protection, increase competitiveness in the market by allowing smaller players to succeed, strengthen the OSC's enforcement tools and make Commission hearings fairer. These proposals are informed by what we heard from the public and stakeholder groups.
On the Taskforce's stakeholder consultations…
We met over 110 stakeholders in seven months, which was pretty remarkable. People didn't think we'd be able to achieve what we achieved given the short period of time. I can tell you each Taskforce member devoted hundreds of hours. Each of us had very busy schedules, and there were very few stakeholder meetings where all five of us weren't there.
The Finance Minister put out a press release earlier this year, seeking input from people and encouraging them to reach out to us. Almost instantly, we had people reaching out. And as more people became aware of the seriousness and importance of our work, we had even more interest.
We tried to make sure that every type of stakeholder group had a voice. And where we felt we needed more representation in an area, we actively reached out directly to folks for their input. We heard from small and large issuers, investor protection groups, regulators and the self-regulatory organizations, the Investment Industry Regulatory Organization of Canada and the Mutual Fund Dealers Association of Canada. We heard from small and large dealers as well as financial institutions, mining companies and other industry groups and sectors. We also heard from groups with very specific mandates such as investor protection groups focused on older people. It was an extremely broad consultation.
The one group that we worked in partnership with was the OSC. We didn't view the OSC as a stakeholder but rather as a partner in this process, and we had multiple meetings and discussions with the OSC during the development of our initial consultation report. Grant Vingoe, the OSC's Acting Chair and CEO, was extremely helpful. Naizam Kanji, Director of the OSC's Office of Mergers and Acquisitions, was part of the advisory group and was our key contact with the Commission and other Directors. Maureen Jensen, the former Chair and CEO of the OSC, was also extremely helpful in kicking things off in the initial stages.
On stakeholder feedback so far…
We've been getting exceptionally positive feedback from stakeholders on the initial consultation report.
First off, people are very impressed that we were able to get so much done with so little time. Second, people are impressed with the decisiveness of these proposals. We've very thankful for that, and we're looking forward to continued feedback. The Taskforce is committed to providing recommendations on modernizing regulations and getting that right.
We provided high-impact policy proposals. The results that we're trying to drive at will create more opportunities for issuers, more opportunities for capital to flow into the province, and ultimately more opportunities to make Ontario a destination for entrepreneurs and small businesses who want to grow and build.
We considered all stakeholder perspectives and we are very confident that even those who don't feel that they are getting exactly what they want, understand what we're doing here is advancing the capital markets from a macro perspective. And that's the most important thing for us to be doing.
On what stakeholders can expect over the coming months…
We're currently receiving feedback on the initial consultation report. The consultation will end on September 7, 2020. We are looking to publish the Taskforce's recommendations by the end of the year, and we're working with the Ministry of Finance on prescriptive solutions, prescriptive proposals given our recommendations. And, we're working on timelines for implementation.
Any final thoughts?
One of the messages people should know is that the message we've got from Premier Ford and from Minister Phillips is that they do not wish for this report to collect dust on the shelf. The Taskforce's work is a serious attempt at positive change in the capital markets and doing so efficiently.
I think for all of us on the Taskforce, this has been an incredible privilege. We heard from many stakeholders about the capital markets. We learned a lot about the resiliency of Ontario's capital markets and the opportunities that exist here. We're very excited about the future and we look forward to providing our final recommendations.